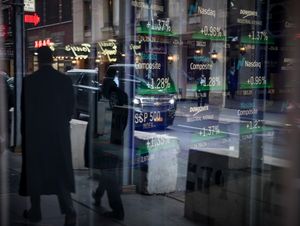 Worldwide coronavirus cases surpass 110.7 million with over 2,447,000 official deaths.
Markets are heading into the close of this week in consolidation mode with all eyes on longer-term interest rates. US 10 and 30yr yields lead the move higher this week breaking through significant levels and eventually trading to their highest levels in over 12 months. The rising bond yields eventually began to weigh on US stocks with indices trading to a two-week low overnight. Bond yields are rising as investors are upgrading their outlook for economic growth and inflation. Biden's $1.9trn stimulus plan is helping to underwrite those expectations. Most economists and central banks believe any uptick in inflation will only be temporary, but with all the money creation that's occurred in the world over the past year, it worth considering the risk that inflation may not be as transitory as the experts believe.
On the data front, the US has produced some mixed results this week. Retail Sales and Producer Prices both came in much stronger than forecast, lending weight to the selloff in bonds, while last night's weekly unemployment claims data showed a surprising jump.
From New Zealand we saw a very strong Global Dairy Trade (GDT) auction this week with prices climbing 3.0%, but the major focus remains on next week Reserve Bank of New Zealand (RBNZ) Monetary Policy Statement (MPS). No change in policy stance is expected, but the tone of the statement from the central bank will be closely analysed.
The Reserve Bank of Australia released the minutes from their most recent meeting earlier in the week and while there were no big surprises the bank make it clear they believe monetary stimulus will likely remain in place for some time as the bank believes it will take years to reach their unemployment and inflation goals. Yesterday's Australian employment data was positive however with the unemployment rate dropping to 6.4%. Full-time employment jumped 59.0k while part-time employment fell 29.8k. Overall the economy added 29.1k jobs last month.