Direct FX
Get better rates for Foreign Currency Exchange
Contact us via our mobile app or site, get a quote, send us the funds and we will exchange the currency and transfer it to the requested bank account.
Billions of NZD exchanged
We exchange equivalent of 100 billion NZD exchanged annually.
No fees
We charge no transaction fees. We will not be beaten on price.
In the business from 2001
Our 6 advisors together have 150+ years of experience arranging currency exchanges.
How do we help you?
We help you save money on banking fees when you need to send or receive funds in another currency.
When transfering the funds to your overseas account
When you are paying for goods and services overseas
When you are selling goods and services overseas
When sending the money to family and friends
When exchanging currencies in your NZ accounts
For transfers to the company's overseas account
When paying overseas suppliers
When receiving the funds from your buyers
For transfers to your overseas subsidiaries
When exchanging currencies in your NZ accounts
Who do we service?
We help businesses, banks and individuals save on foreign exchange.
Why us?
Here is why we are a better solution than traditional banks.
No fees
We charge no transaction fees. We build our fees and margins into the rate we quote you (in most cases).
150 years of combined experience
Combined we have over 150 years of experience giving advice to and arranging currency transactions for bank treasury currency traders.
We use plain English
We give general product advice in plain English. We explain the choices, benefits, and risks of foreign exchange products
Global bank payment system understanding
We have thorouh knowledge and vast experience with the global bank payment system.
Informed decisions
Our general product advice helps clients make informed decisions about personal and business currency transfers.
Direct lines to all major bank treasuries
We have direct phone lines of communication with all major bank treasuries in Australasia.
No Fees
We charge no fees. You get one quote and everything is included in it.
Account maintenance fee.  Transfer funds whenever you want to. We do not have any inactivity charges.
Transaction fees. We charge no transaction fees. We build our fees and margins into the rate we quote you (in most cases).
Account registration. Creating an account with us is absolutely free and it will stay that way.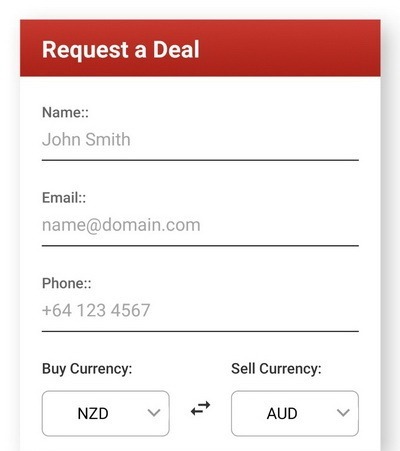 Manage Your Forex in No Time
It takes only a few minutes to register an account. After that, you'll receive further instructions on how to transfer the funds. Once the funds are in our accounts you can begin trading. It is that easy!
Client Testimonials
We are proud that 438+ customers rated us 4.9/5 on TrustPilot. Here are some of their reviews.
Wouldn't now go anywhere else
Date of experience: 12 July 2022
I used two of the major international FOREX companies before finding Direct FX. Direct FX service is better than anything I have ever experienced elsewhere in Forex, their response times are swift and they are an NZ company. If that wasn't a good enough reason to change, their rates are way more competitive than anything I experienced with the "big guys".
I wouldn't use anyone else
Date of experience: 22 December 2021
I have used DFX many times over the last 5 years. I used to shop around for the best rates. I don't anymore because the DFX rates were better every time. The phone service is fast and easy. The agents are always friendly and explain everything. Turn around/transfer time is prompt. I have been and continue to be a very satisfied customer.
I've always found DFX to be a great way…
Date of experience: 29 March 2022
I've always found DFX to be a great way to exchange my finances. Fast efficient service at a great rate. The app gives me all that I need although sometimes the rates shown are a little higher than what is offered. Thats down to changing markets I guess. I've used DFX for two and a half years and I will continue to use DFX, it's the best I've found so far.
We Are Available Worldwide
Direct FX accepts transfers from most countries with a few exceptions like Cuba, Iran and Iraq. Contact us if you wish to confirm we can receive payment from the country you require.